GP Designs Fat Flat 40 Spoke Rims [Image: 437K]
New for 2009. GP Designs has developed another dimple-less 40-spoke rim. These rims begin with a 6061T-6 aluminum forged rim. The centers are removed and the rims are then drilled for a 40 spoke dimple-less design. Billet Boys 7075 aluminum hubs with sOther sizes are available and all are made in the USA.
GP Designs Twin Cam, Main-Shaft Outer Bearing Support [Press Release]
Click on the link above for the Press Release!
Or you can have a look at the Hot Bike Magazine article here.
Available in the GP Designs Store! Click here to get it!
GP Designs Frame Kit [Image: 644K]
The GP Designs frame kit will soon set the standard for our latest rolling chassis. It will include GP's own dimple-less spoke wheels, the new Mohawk fenders, matching tank and many other extreme and innovative items.
Remember: The options are always endless at GP Designs. Chassis shown accepts a 250mm rear tire.
GP Designs Stealth Fender [Image: 295k]
*Designed with lines
That's what the new stealth fender is all about. The perfectly formed facets give this bold look a whole new angle. Constructed from a spun radius, two piece design and built to last with 13 gauge steel. These fenders are shaped to perfection. Minimal body work is required. Matching tanks and oil bags available soon.
GP Designs Sneaker Fender Series [PDF]
Once again, George Pacheco takes the industry to the next level by introducing a new era in fender design. These 13 gauge steel fenders offer the ultimate in looks and strength. Constructed from a spun radius, two piece design. These fenders will eliminate the time consuming task of piecing stock fenders to accommodate wide tires. These fenders are shaped to perfection. Minimal body work is required.
GP Designs Damascus Shift Handle
George Pacheco, owner of GP Designs; new Damascus shift handle is a true original. The handmade shaft and bracket start with billet 6061T-6 aluminum. Then are polished and wrapped in flawless show-quality chrome. The one-of-a-kind Damascus handle set is created in an .old world. manner. The ornamental patterned set is etched and polished enhancing the steel.s inner beauty and crowned with GP.s own riveting design. No two will ever look alike! It offers extreme durability and great looks without sacrificing strength. The massive bracket mounts to the primary case, opposed to the engine mount, like so many others. This design offers virtually no vibration and a positive shift every time.
*GP055 Damascus Shift Handle
*GP056 Suicide Billet Shifter Bracket
GP Designs S&S V-TWIN [Image: 191k]
George Pacheco, owner of GP Designs, presents his fully assembled and polished V-Twin. S&S 124 CI. Ported and flowed cylinder heads, RC cam with special grind. Increased compression. Includes daVinci carb. Velocity stack, optional.
GP Designs Bearing Support, Mount and Cage Assembly. [Image: 226k]
A ONE OFF DESIGN This custom bearing mount support, full cage, belt assembly is a true work of machinists' art. George Pacheco put his usual amount of extreme effort into creating another original. This caged design begins with 6061T-6 aluminum and then wrapped in show quality chrome. This new concept removes stress from the transmission bearing, and guarantees that everything stays in alignment. If you want looks, you'll get them, with this flowing but artistic masterpiece. As usual, strength and maximum durability are incorporated for extreme high performance applications into this unique piece.
GP Flat 40 Spoke Rims [Image: 164K]
George Pacheco has developed a dimple-less 8.5 inch rear 40-spoke rim with matching front rim. These beauties begin with a 6061T-6 aluminum forged rim. Centers are then removed and the rim is drilled for a 40 spoke dimple-less design. Billet Boys 7075 aluminum hubs with strengthened flanges are then installed. The spokes are available in either stainless or a T-11 tool steel with a chrome finish. The sizes shown are 3.5x21 front and 8.5x18 rear. Other sizes are available.
GP 6" Spike Chopper Risers
This is just a taste of George Pacheco's new Chopper line of Billet parts, this patent pending design has the illusion of a riser that looks like it is hammered through the triple trees but has the strength and great looks of any riser on the market.
Now available in the GP Designs Store! Get your riser here!
GP, Right Side Drive, Big Tube Chopper Frame
George Pacheco, owner of GP Designs, presents a new frame that encompasses every aspect of great craftsmanship. It includes: hidden axles, flush-mount swing arm bolts and a threaded oil fill. This frame offers both strength and great looks with a 2" single down tube and a 2" back bone tube. There's a 40 degree rake, 6" up stretch and a 4" back bone stretch. The frame can be ordered as a Softail or Rigid.
A custom tank is also available for this frame.
Now available in the GP Designs Store! Get it here!
GP Designs Internal Throttle Kit
This throttle is the smoothest on the market. It has 160 degrees of twist, twin needle rolling bearings for smooth action and no drag. Harden case for long lasting use. Also available with GP Designs grips (Patent Pending) and no set screws. We would like to emphasize on the fastening means. GP won't use set screws like you find on so many other throttle kits. They are unsightly, can loosen or cause binding issues. GP uses a collet design that makes the product truly lock to the bars. A collet wrench is included with each kit.
The OD on the throttle insert portion is 1".
Now get the Internal Throttle Kit in the store! Get it here!
Smoke Pumpin' Hotties Exhaust Pipes
George Pacheco, owner of GP Designs, presents his one-piece mandrel bent exhaust pipes, affectionately called Pumpin' Hotties. These pipes are Hot, Hot, Hot they have a fabulous look and they are also available with ceramic coating to stop bluing.
One piece Mandrel-bent Construction - No Baffles
1-3/4" to 2" step
Choose from Chrome and Polished Stainless Steel Construction
These pipes are available in the store...Get 'em here!
GP Designs One Piece Motor Mount, Oil Gauge, Key Switch
As Seen on the Orange County Choppers "Fire Bike" and "Snapon" bike!
This is one hot looking motor mount, that hides many functions in one part. Made out of solid billet aluminum, with oil gauge or a Legend Air Suspension gauge. The piece uses the Drag Specialties key switch (DS-272112).
Like it? Go get it in the store! Click here!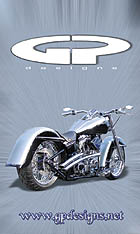 Our new 2004 catalog is on the way from the presses, and soon into your hands. We will also have our store ready so that you can start getting your gear online.
Click on the image to the left, or click here to get it in the store!
Crankcase Breather Kit (Patent Pending)
Our clean breather system eliminates oily mess, no more dangling hoses or breathers. Our super clean breather system uses the frame as an expansion tank and helps reduce crankcase pressure to eliminate leaks and increase horsepower.
Be the first on your block to get it from the GP Designs Store! Click here to check it out.
GP Twin Cam B Rolling Chassis
GP Concealed Derby and Points Covers
GP Matching Front and Rear Fender Rails
GP Big Guns Chopper Risers (4" or 8")
Check out what's "In-the-Works":

Raylene McKenize's Bike NEW!
Tim Hallowell's Chopper w/Smoke Pumpin' Hotties

Check out the feature articles on GP Designs that appeared in:

Hot Bikes Magazinee
January 2006
"GP Designs' Main-Shaft Outer Bearing Support"

Hot Rod Bikes Magazinee
July 2005
"Head Breather: Keeping Your Oil In Your Engine Not On It"

Street Chopper Magazine
June 2005
"Just Like Riding A Bull"

Hot Rod Bikes Magazine
May 2005
"Clean Up Your Act With a Hidden Throttle"

Hot Bike Magazine
May 2004
"GP Designs Head Breather: Super Clean and Functional"

Drag Specialties
July/August 2004
"Bolt-on Products, for Real-World Customs"

Hot Rod Bikes
October 2004
"Learning the Curve"

Hot Rod Bikes Magazine
September 2003
" . . . We Have A Roller"

Street Chopper
January 2004
"Eliminate The Mess"

Hot Bike
February 2004
"The Cutting Edge"

Hot Bike Magazine
May 2002
"High Gear Style. . . With GP Design.s Softail Shifter

Street Chopper Magazine
April/May 2002
"Project Rigid"

Hot Bike Magazine
September 2002
"A Reversal of Sorts"